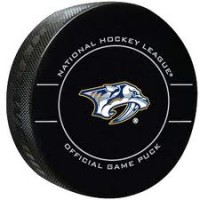 St. Paul, MN — The Nashville Predators punched their ticket to the Stanley Cup playoffs tonight with a win over the Minnesota Wild, 1-0. Ryan Johansen scored the game winner, just 4:32 into the opening period.
The Predators were coming off of a humiliating loss to the central division leading Winnipeg Jets on Saturday night and with the St. Louis Blues breathing down their neck, they desperately needed a win tonight.
Winnipeg lost to the Dallas Stars, but the Blues beat the Vegas Golden Knights to stay within two points of the Predators. The final few games of the regular season will determine how these teams shake out for the playoffs. Nashville still has a chance to win the division, but they could also fall to third place by seasons end.
Minnesota has a horrible home ice record and that trend continued tonight in front of their fans who at times were "booing" their team for lack of production.
Nashville's Ryan Johansen scored the only goal of the night, when former Predator Kevin Fiala turned the puck over on the Minnesota power play. Johansen and Viktor Arvidsson took the puck the length of the ice and Johansen snapped his wrister from the high slot over the shoulder of Wild goalie, Devan Dubnyk, and that would be the final score of the game.
Nashville only had 19 shots on goal for the night, while Minnesota had their share of opportunities with 29. Minnesota outshot the Predators in both the second and third periods 24-12.
Juuse Saros stood tall in net for Nashville once again for the win. He was named the first star of the game for his effort.
Nashville will next play the Pittsburgh Penguins on Friday night, hoping to avenge the overtime loss to the Pens last week. The Predators return home to Bridgestone Arena on Saturday to host the Columbus Blue Jackets. Puck drops at 7pm.