Austin Peay State University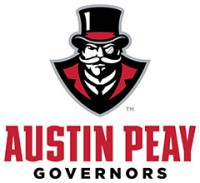 Clarksville, TN – Austin Peay State University director of athletics Ryan Ivey [1] director of athletics at Austin Peay State University, developed a national reputation in his three years at APSU, thanks to several key hires and big winning seasons.
Several institutions took note of his impressive accomplishments, and earlier today, Ivey announced he will leave Austin Peay to become athletic director at Stephen F. Austin State University in Texas.
"Ryan helped transform Austin Peay's already successful athletics department, and brought many teams into the national spotlight," Dr. Alisa White, APSU president, said. "I appreciate his dedication to this University, and for building a strong foundation of success that we will continue building upon. I wish him the best at Stephen F. Austin, unless, of course, his teams are playing Austin Peay."
"My family and I have had a great experience at Austin Peay," Ivey said. "We've enjoyed becoming part of the Clarksville community and that's been the hardest part of making a decision to leave. However, this was a great opportunity for me and my family, and I had to make a very difficult decision."
Ivey arrived at Austin Peay in 2015, when the University's football team had one of the worst records in the country. In December of that year, he hired Will Healy [3], a young receivers coach from the University of Tennessee at Chattanooga, as the football team's new head coach.
Last year, Healy's team won eight regular season games, tying a program record for victories set in 1977. The winning season brought in record crowds to Fortera Stadium, and led Alex Kirshner, national sports reporter for SB Nation, to write "The Austin Peay Governors might be Division 1 football's best story in 2017."
Healy was named the OVC Coach of the Year in Football.
Austin Peay's women's volleyball team had an even more successful 2017 season, winning both the regular season the Ohio Valley Conference tournament titles for the first time in program history. The team went on to its second ever NCAA Volleyball tournament, and Coach Taylor Mott [4] was honored with the title OVC Coach of the Year in Volleyball.
In March 2017, after legendary basketball coach Dave Loos retired, Ivey made another aggressive hire with Matt Figger [5], former University of South Carolina assistant basketball coach. In his first season, Figger's team earned a No. 3 overall seed in the OVC Tournament. Figger's success led him to be the third of Ivey's coaches to receive the OVC Coach of the Year honor.
"What makes this even harder is leaving the phenomenal coaching and administrative staff we have built," he said. "This would not have happened without their hard work and dedication. Lastly, the University administration, faculty and staff have been tremendously supportive and the combination of those two elements will ensure the success of Austin Peay athletics continues."
Under Ivey, a program-record 10 student-athletes were named to the 2018 Arthur Ashe Jr. Sport Scholar teams. Lidia Yanes Garcia [6] was one of 20 semifinalists for the Arthur Ashe Jr. Sports Scholar Award, accorded to the most decorated of the more than 1,000 outstanding minority student-athletes nominated by their respective colleges or universities.
Four APSU teams received NCAA Public Recognition Awards—women's golf, women's volleyball, women's cross country and women's tennis—and in 2018, 204 athletes received academic recognition, 107 athletes were named to Austin Peay Dean's List, 51 posted perfect 4.0 GPAs, and 11 of the department's varsity teams finished the semester with at least a 3.0 team GPA.
The University will name an interim director of athletics and then conduct a national search to permanently fill the position.