APSU Sports Information

Montgomery, AL – Austin Peay State University women's soccer team improved to 2-0 on the 2016 season with a 4-1 victory over Alabama State, Sunday, at the ASU Soccer Complex.
It's the first 2-0 start to an Austin Peay campaign since 2013 – a year in which the Govs reached the semifinals of the Ohio Valley Conference tournament.
APSU held a 19-4 shot advantage over the host Hornets, with four different players finding the back of the net.
The Governors (2-0) got off to a slow start in the early minutes as Alabama State maintained possession on the APSU side of the field, forcing junior Lindsey Todd [2] to make two key saves.
However, Austin Peay created takeaways in the midfield, leading to runs down the center of the pitch. This led to the first goal of the game – in the 16th minute – as senior Gina Fabbro [3] darted forward and finished top shelf past the keeper.
[4]In the 27th minute, junior Kirstin Robertson [5] scored her second goal of the season. Off a corner kick, redshirt freshman Pamela Penaloza [6] delivered a ball which deflected off the head of Fabbro, and fell to Robertson who poked it home.
Alabama State got on the board in the 42nd minute courtesy of an own goal as a cross deflected off an APSU player and into the net.
Sophomore Jennifer Smith [7] tallied her first goal of 2016 in the 51st minute, making a solo run down the right-center of the field which led to an easy tap-in with the goalkeeper coming off her line.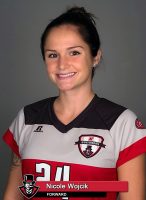 [8]The Govs continued to attack and pad their lead in the game's later stages, playing the ball out wide before crossing to the center. In the 70th minute, junior Sophia Fabbro [9] drifted wide left, passed to Penaloza, who then played it off to senior Nicole Wojcik [10] for a chip shot beyond the keeper's head.
"The girls did a good job of battling today," head coach Kelley Guth [11] said. "It's a tough swing being on the road two games, and playing in the heat is always a challenge early in the season. I'm proud of the girls for being resilient and pushing through for 90 minutes."
Gina Fabbro [3] led APSU in total shots with four, while Wojcik narrowly trailed her with three. Todd was awarded the win in goal to improve her record to 2-0, while freshman Mary Parker Powell [12] played the final 45 minutes.
Austin Peay returns to Clarksville next Sunday, August 28th, for its home opener vs. Evansville at 1:00pm.
Box Score
Austin Peay (2-0) 4 at Alabama State (0-2) 1
Score By Periods

| Team | 1 | 2 | Total |
| --- | --- | --- | --- |
| Austin Peay | 2 | 2 | 4 |
| Alabama State | 1 | 0 | 1 |