APSU Sports Information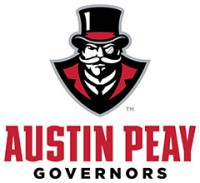 Brentwood, TN – Former Austin Peay Faculty Athletics Representative Dr. Gaines Hunt has been elected into the Ohio Valley Conference Hall of Fame. His induction will be made official at the annual OVC Honors Brunch Friday, June 3rd at the DoubleTree Hotel in downtown Nashville.
The Ohio Valley Conference Hall of Fame was organized in 1977 with the intent of honoring the coaches, administrators, faculty and staff that have been associated with the OVC for at least five years and provided extensive and outstanding service to the Conference. With the induction of this year's class, the membership will reach 79.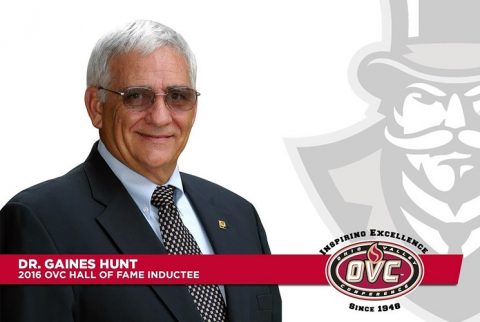 [1]Hunt served as the Faculty Athletics Representative (FAR) from 1978 through 1995 (minus a year-and-a-half hiatus) at Austin Peay, his alma mater. Hunt graduated from the school in 1966 and came back to become a Professor of Agriculture from 1971-2006.
During that tenure he served as Dean of the Department of Agriculture (1978-87 and 1991-96). Prior to the NCAA sponsoring women's sports, Hunt served as Austin Peay's NCAA delegate in 1981 that passed a governance plan to allow women to compete for NCAA Championships (something that became a reality two years later).
In addition to his FAR duties he served on OVC subcommittees that established the prestigious OVC Scholar-Athlete Award in 1981 and drafted the first OVC Sportsmanship Policy in 1995. The first-of-its-kind "Sportsmanship Statement" promoted principles of fair play, ethical conduct and respect for one's opponent.
The statement has become a model for others to follow across the nation and has answered the challenge of the NCAA Presidents Commission to improve sportsmanship in collegiate athletics.
During the 1990-91 season he was charged with the responsibility of conducting an NCAA Basketball Recruiting Investigation and Response in which he prepared a 460-page document in response to charges; at the time it was believed to be the first occasion an institution self-imposed penalties as a result of major violations.
At the time, the NCAA considered the internal investigation and response the standard for future investigations.
As an educator he taught Dr. Lannett Edwards, who would later make national headlines for cloning Dolly the sheep. Hunt retired from Austin Peay in 2006 and had the Dr. Gaines Hunt Agriculture Scholarship established in his honor in 2012, which became endowed earlier this spring.
A member of Austin Peay's Red Coat Society since 2007, Dr. Hunt was a co-recipient of the 2015 Ohio Valley Conference Thurston Banks Award for Distinguished Academic Service, established in 2013 to recognize individuals (e.g. academic advisor, professor, tutor, etc.), with at least five years of service at one or more OVC member institutions, for their outstanding contributions to OVC student-athletes' academic success, learning and development as well for his or her overall commitment to the institution's athletics program.
Joining Dr. Hunt in the OVC Hall of Fame Class of 2016 are former Murray State head coach Frank Beamer and former Jacksonville State President Dr. William Meehan.