Austin Peay Sports Information

Owens Cross Roads, AL – Austin Peay State University women's golf team didn't achieve the score it was seeking on the final day of the Ohio Valley Conference golf championship, played at Hampton Cove on The Robert Trent Jones Golf Trail.
As a result, the Lady Govs finished the tournament in seventh place after firing a final-round 318 to end at 942.
"Certainly we would have like to have finished better than we did (seventh)," APSU coach Sara Robson [2] said. "But I think our team needs to go away with knowing how good they can be–they are close. We didn't have four people play great at one time during the tournament, but we had five people play great at one point.
"As a team we need to take away personally some confidence. There is a lot to build on. We played three sophomores and a freshman joining Jessica (Cathey) in the lineup, I think a lot about the coming years."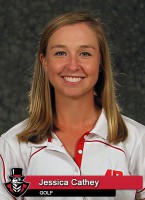 [3]The Monday (313) and Tuesday (311) rounds were lower than the Lady Govs shot all spring and Wednesday's 318 was better than every other spring round except one. Their tourney average (314) was less than the fall average (315.4).
Cathey, a junior, and sophomore Morgan Kauffman [4] led APSU with final-rounds of 76. Cathey led APSU with a 232—it was the eighth time this year she finished as APSU's low score. She finished 16th overall.
"Jessica really battled today," Robson said. "She hit some tough shots and put her in some interesting situations. She made some clutch putts. She birdied 16—which is a heck of an accomplishment. That hole killed us a team this week.
"I am proud of Jessica. We know she is going to play well for us. She has some things she needs to work on this summer."
[5]Kauffman finished one stroke back (233) of Cathey but her 76 Wednesday matched her 76 Tuesday. It was the first time in her career Kauffman shot rounds of 76 or better in consecutive rounds.
"We have talked for more than a year about Kauffman's potential," Robson said. "She needed to get out of her way and let it happen. She did a better job of that yesterday and today. She played really well today—she was one-under after 12 and it probably rattled her a little bit. She doubled 13—she didn't hit a very good bunker shot and then two-putted.
"She has been close a few times this year but she really has not been able to break out. Hopefully, this will get her confidence going."
APSU's three first-time OVC participants, sophomores
Morgan Gardner
[7]
(85) and
Kelsey Schutt
[8]
(87) and freshman
AnnaMichelle Moore
[9]
(81), all failed to break 80 Wednesday.
"AnnaMichelle played well today until the last five holes," Robson said. "I don't think it was anything in particular.
"She has got to take away from this tournament that it is there. Her course management has improved so much this year but it still has a ways to go. She just has to get comfortable in situations to know that if you are playing super well, a bogey is not going to kill you. Just go get a birdie on the next hole."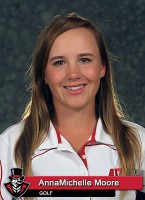 [10]Gardner and Schutt played sparingly for the Lady Govs in Spring 2014. In fact, Schutt just worked her way into the lineup recently after a strong performance in Murray State's event and winning a playoff for the final spot.
"The thing Gardner has improved most is her focus," Robson said. "She is going to be a solid player. The focus she gained this year goes along with the determination she always has had. Her short game always is going to be her strong point.
"Kelsey is hungry—she wants to play. She is very competitive. Her determination is what got her here. I think she just ran out of steam with all the qualifying she had to do, seven rounds in eight days and all but two of them were very stressful rounds. But she didn't quit—that's Kelsey. She is a competitor."
Eastern Kentucky (902) rallied during the back nine and then held off first- and second-round leader Jacksonville State (903) to win the championship. It is the second time in three years the EKU has won the event.
Box Score
2015 Ohio Valley Conference Women's Golf Championship
RTJ Golf Trl at Hampton Cove – 2015 OVC Women's Championship Par: 72 Yardage: 6050
April 20th-22nd, 2015
| Pos. | Team/Player (seed) | Round 1 | Round 2 | Round 3 | Total |
| --- | --- | --- | --- | --- | --- |
| 7 | Austin Peay State | 313 | 311 | 318 | 942 |
| 16 | Jessica Cathey (1) | 77 | 79 | 76 | 232 |
| 17 | Morgan Kauffman (2) | 81 | 76 | 76 | 233 |
| 30 | AnnaMichelle Moore (4) | 78 | 81 | 81 | 240 |
| T31 | Morgan Gardner (3) | 82 | 75 | 85 | 242 |
| T40 | Kelsey Schutt (5) | 77 | 83 | 87 | 247 |