Austin Peay vs. Tennessee Tech
Friday-Sunday, March 27th-29th, 2015
Clarksville, TN | Raymond C. Hand Park

Clarksville, TN – Austin Peay's baseball team will look to shake off a disappointing road trip when it hosts Ohio Valley Conference rival Tennessee Tech in a three-game series that begins with a 6:00pm, Friday contest.
The OVC series will continue with a 2:00pm, Saturday affair before concluding with a 1:00pm, Sunday contest.
Austin Peay enters the weekend after posting a 1-4 record during its recently concluded road trip.
In addition, the Govs have lost their last two OVC series, including last weekend's set at Murray State. Despite the back-to-back series losses, the Govs 5-4 record remains tied for fourth place in the standings.
During the road trip, Austin Peay's offense continued to struggle in scoring opportunities. The Govs amassed 51 at-bats with a runner in scoring position but had just eight hits (.157 batting average) in those chances. Consequently, Austin Peay scored just 12 runs (2.4 per game) during the road trip.
The Govs pitching staff had a mixed bag of results during the road trip. In the first four games of the road trip, the starting rotation held opponents to a 1.95 earned-run average and a .195 batting average. However, the bullpen ended that four-game stretch with its first blown save (Sunday at Murray State) then struggled in Wednesday's outing at Southern Illinois.
Austin Peay and Tennessee Tech have played 173 games in the series, APSU holding a 93-79-1 edge all time. The Govs won last season's series in Cookeville, 2-1, but the Golden Eagles claimed a 2-1 series win in the 2013 set played in Clarksville.
First Hacks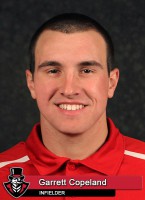 [2]Austin Peay has not wanted for scoring opportunities this season, with 319 plate appearances with a runner in scoring position during the season's first 21 games.
The Govs offense enters the weekend as one of the nation's top doubles-producing team, averaging 2.67 doubles per game (3rd in Division I) and are among Division I's Top 50 in average (50th, .294), slugging percentage (47th, .428) and stolen bases per game (48th, 1.52).
Second baseman Garrett Copeland [3] leads APSU with a .333 batting average through 21 games, including a .394 mark in OVC action.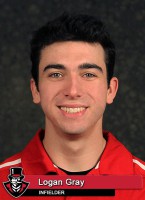 [4]Outfielder Patrick Massoni [5] leads the Govs with a .400 batting average in league action, recording 12 of his season's 17 hits in OVC play. Third baseman Logan Gray [6] hit his season's first 2 home runs during the road trip, both leadoff blasts, and he leads APSU with a .547 slugging percentage.
Designated hitter Alex Robles [7] batted 3-for-15 (.200) with no RBI during the road trip. Catcher Ridge Smith [8]'s March struggles continued through last week's action, he is batting just .182 during the month.
First baseman Dre Gleason [9] had 4 of the Govs 7 RBI during the Murray State set, doubling his season RBI total (now has 8 RBI).
Shortstop
Clayton Smithson
[11]
batted .236 (4-for-17) during the road trip and his error in Saturday's contest was ended a 7-game errorless stretch. Left fielder
Cayce Bredlau
[12]
batted .333 and had a team-leading .467 on-base percentage in the Murray State series.
Right field continues to be the most unsettled position in the field with 3 different Govs manning the position against Murray State, including Josh Wilson [13] who made his first outfield start.
Toeing the Rubber
[14]Zach Hall [15] rejoins the Govs rotation after two midweek starts and will pitch Game 3 in its weekend OVC series against Tennessee Tech – his first conference start since 2013. Alex Robles [7] remains in the No. 1 spot still seeking his first victory this season; he is 0-2 with a 4.42 ERA in three OVC starts.
Jared Carkuff [16] fills the No. 2 spot in the rotation, owning a 2-1 record and 3.50 ERA in conference play. A.J. Gaura [17] is one of four Govs pitchers to record a save this season and has a team best three saves this season, one in OVC play.
Probable Starting Pitchers and Closer
| | |
| --- | --- |
| Date | Austin Peay's Pitcher |
| Start | Opponent's Pitcher |
| Fri. | RHP Alex Robles [7] (#5, So., 0-2, 3.38 ERA) |
| 6 p.m. | RHP Chris Chism (#30, Sr., 4-0, 2.28 ERA) |
| Sat. | RHP Jared Carkuff [16] (#16, Jr., 3-3, 3.93 ERA) |
| 2 p.m. | RHP Evan Frailex (#31, So., 2-1, 3.72 ERA) |
| Sun. | LHP Zach Hall [15] (#10, RSr., 1-4, 6.93 ERA) |
| 1 p.m. | RHP Travis Moths (#33, Fr., 1-2, 5.93 ERA) |
| CLOSER | RHP A.J. Gaura [17] (#36, RSr., 0-0, 3 SV, 3.00 ERA) |
| | RHP Jeb Scoggins (#7, Sr., 0-1, 1 SV, 4.50 ERA) |
Broadcast Information
Weekend Radio • Governors Sports Network
Play-by-Play: Van Stokes
Digital Audio • Governors Digital Passport
Audio for all APSU Baseball contests will be available free online at www.LetsGoPeay.com/watch
Governors on the Web
Live Statistics: www.PeayStats.com
Twitter: @APSUBaseba
Video – Garrett Copeland