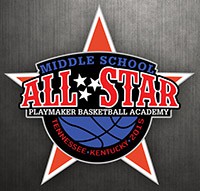 Clarksville, TN – Terry Boykin, founder of the Playmaker Basketball Academy, awarded the first ever Edith L. Kidd Memorial Community Service Awards during his inaugural Playmakers Basketball Academy TN/KY Middle School All-Star games Saturday afternoon at Clarksville High School.
The service awards were given to Caden McKinnis from Auburn Middle School, Jacob Naylor from Russellville Middle School and Blayke Bingham from Olmstead Middle School.
According to Boykin, Kidd was an invaluable figure to the community as well as himself and his family.
"Sometimes as coaches, on the front end we get a lot of attention. Coaches get a lot of love for that," Boykin said. "But there are so many people behind the scenes that are working, that are making it happen and plays an important part of that team. Me, I know Edith Kidd, the role that she played in my life, in my families life and her role in Playmaker Basketball Academy. To honor her was a no-brainer for me, for her and her family."
The players receiving the awards for the first time were chosen for their outstanding community service both in the local community and in other countries as well. The family of the late Edith L. Kidd was present at the game to share in the honor and give the awards to the players.
"It was an honor getting it from the family," Naylor said.
"I am blessed. I have these opportunities because my church, family and my parents allow me," McKinnis said.
In addition to the service awards, Boykin also gave out awards to outstanding teachers who were nominated by the all-star game players. Boykin said he wanted to ensure the all-star experience was not just for outstanding student athletes, but also the people who helped them become standouts.
"As far as the teachers are concerned, my wife is a school teacher, so I know how hard that work is and I know the impact that they have on these kids lives too," Boykin said. "I wanted to make sure that I acknowledged those people, include them in this day too."