Austin Peay (1-2) at Chattanooga (2-2)
Monday, November 24th, 2014 | 5:00pm CST
Chattanooga, TN | McKenzie Arena

Clarksville, TN – Austin Peay women's basketball team begins a four-game road trip with the first of seven matchups against in-state opponents when it meets Chattanooga in a 5:00pm (CT), Monday contest at McKenzie Arena.
The Lady Govs will seek to build off their season's first victory – an 84-77 win against Grand Canyon, Saturday.
Sophomore Tearra Banks [2] contributed a career-high 22 points and a game-best nine rebounds in the winning effort.
Austin Peay's offense showed its depth with five players scoring 10 or more points for the first time since January 30th, 2013.
After two inconsistent outings to begin the season, Austin Peay's offense got off to a quick start against Grand Canyon and put together its best outing of the young campaign. The Lady Govs shot 46 percent from the floor, including an impressive 56 percent (9-of-16) from three-point range. The offense was particularly efficient off turnovers, striking for 29 points off 16 Antelopes turnovers.
APSU returns four starters among 10 letterwinners from last season's squad. That group includes the Lady Govs top five in both scoring and rebounding. Despite the large number of returnees, the projected APSU starting five includes one senior, one junior and three sophomores – still a relatively young squad.
Last Game: Austin Peay 84, Grand Canyon 77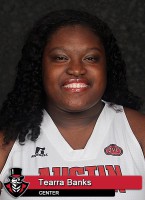 [3]Sophomore center Tearra Banks scored a career-best 22 points and also grabbed nine rebounds in 24 minutes played.
Four other Lady Govs reached double figures – Tiasha Gray (18), Kristen Stainback (16), Madison Rich (12), and Beth Rates (10) – the first time APSU has had five players hit double-digits in one game since January 30th against Murray State.
Gray also had eight rebounds, eight assists, and five steals in her 40 minutes of time on the court.
Fourteen of Stainback's 16 points came in the first half after going 4-for-4 behind the three-point arch.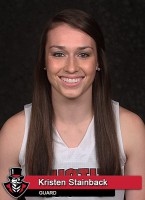 [4]Twenty-nine of APSU's 84 points came off turnovers as the Antelopes committed 16 in the contest.
Early in the first half, Grand Canyon went 7-of-7 on field goal attempts, giving them a four-point lead at the 10:58 mark.
The Antelopes shot 16 three-pointers in the first half, connecting on seven.
However, APSU came back to lead by five at the break, the first halftime lead for the Lady Govs since February 17th at Eastern Illinois.
The Lady Govs went on a 6:32 stretch of leading by double-figures in the second half, only to see the deficit cut to four with 3:05 remaining.
Chattanooga Mocs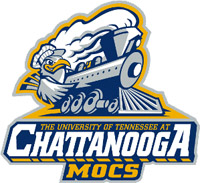 Chattanooga, the defending Southern Conference champion, was picked to win the 2014-15 title in the league's preseason poll… The Mocs did not have a player named to the Preseason All-Southern Conference Team, but return eight players from last season's squad that finished 29-5 overall.
Jasmine Joyner returns after posting 56 blocked shots last season and set a UTC record with eight blocks at Notre Dame, Friday… Chattanooga owned a 40-game home win streak before falling to South Florida, November 16th… The Mocs will play four OVC teams this season, along with APSU they will travel to Belmont and UT Martin then face SIUE in San Antonio, Texas.
Last Season's Meeting Versus Chattanooga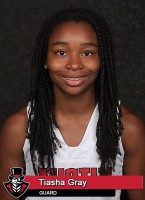 [5]Austin Peay got off to a good start but could not maintain the momentum in an 81-70 loss to Chattanooga, December 19th, 2013. Austin Peay led the opening 17 minutes of last season's meeting, but Chattanooga closed the first half with a 21-7 run to build a 38-29 halftime lead.
The Mocs then built a 22-point lead with six minutes left only to watch the Lady Govs close the game with a 19-8 run to slash the deficit in half. Tiasha Gray [6] led all scorers with 27 points while Tearra Banks [2] added 12 points before leaving due to injury. Chelsey Shumper led Chattanooga with 16 points.
An Austin Peay Win Would
Be its second-straight win and first back-to-back wins since February 3rd, 2014… Be its second-straight nonconference win and give it back-to-back wins out of conference for the first time since the start of the 2011-12 season.
End its seven-game losing streak to Chattanooga and be its first win against the Mocs since November 30th, 1997… Improve Carrie Daniels' record to 90-159 overall… Make the Lady Govs 443-632 overall since 1976-77.
An Austin Peay Loss Would
Be its fifth-straight road loss… Be its eighth-straight loss to Chattanooga… Extend its losing streak in road nonconference tilts to six games… Drop Daniels' record to 89-160 overall… Make the Lady Govs 442-633 overall since 1976-77.
Broadcast Information
Radio • WAPX 91.9 FM
Play-by-Play: Josh Stephenson
Govs On The Web
Live Video: www.SoConDigitalNetwork.com
Live Audio: www.LetsGoPeay.com/Watch
Live Statistics: www.GoMocs.com
Next Team Up
Southern Miss | 3:00pm, Friday
The Lady Govs road trip continues when it meets Southern Miss in the opening game of its Thanksgiving Classic, Friday. It is Austin Peay's second trip to Hattiesburg under current head coach Carrie Daniels [8], who took APSU to the then Lade Eagle Classic in 2007-08 and split a pair of games.
The other side of the bracket has North Carolina A&T and Oral Roberts, neither a team Austin Peay has faced previously.