Nashville Sounds Baseball
First-Place Sounds Take Series Opener Against Division-Rival Z's
Metairie, LA – Pitcher Michael Blazek tossed 5 2/3 scoreless innings and accounted for three of Nashville's four runs scored in the Sounds' 4-2 victory over New Orleans on Saturday evening at Zephyr Field in the opener of a four-game series.
With the victory, the Sounds (62-53) maintained their two-game lead in the PCL American Conference Southern Division.
«Read the rest of this article»
Clarksville, TN – David Edmondson posted an opening-round of two-under 69, August 2nd at Swan Lake Golf Course, to lead the Senior Clarksville City Amateur by a stroke.
Edmondson was two-under at the turn, with three birdies and one bogey, and played the backside at even par – including a birdie on the 18th hole to hold the one-stroke lead.
"I got a lot of break today, but I felt pretty good about everything," Edmondson said. "I only missed two greens and made a lot of putts.
«Read the rest of this article»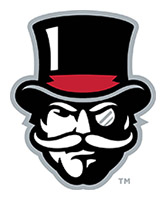 Clarksville, TN – In the fall of 1947, a young football player named Hendricks Fox ('51) stood inside a newly built stadium, admiring the rows of bleachers and the white concrete walls. Sixty-six years later, on an overcast afternoon in November, he returned to the site with a sledgehammer and smashed a few chunks from the decrepit facility.
"I had four good years there, but they've been needing a new stadium for some time," he said.
«Read the rest of this article»