Austin Peay Sports Information

Madison, MS – Battling cold and windy conditions, Austin Peay State University's golf team wrapped up the regular season with a sixth-place finish at the Reunion Intercollegiate, Tuesday afternoon, at the Reunion Golf and Country Club.
After finishing the weather-delayed tourney's first round in first place with a 293, Tuesday, the Governors were unable to maintain that momentum.
APSU shot a second-round 310 to end at 603. Mississippi State won the event with a 588, followed by No. 15 Vanderbilt (592), No. 10 Houston (593), Ole Miss (596) and Western Kentucky (601).
APSU was able to down Top 100 ranked teams Central Arkansas, Middle Tennessee, Louisiana, Southeastern Louisiana and Troy in taking sixth.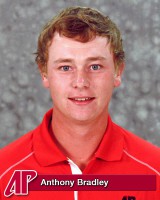 [2]"For much of the tournament and much of the day, we were able to hang right there with what basically was a regional field in some really tough playing conditions," APSU coach Kirk Kayden said. "We had a few high numbers late hurt us but overall it was a pretty good week.
"I know our guys were disappointed that beat some of the highly ranked teams here but at the same time they should able to take a lot from this tournament—it should help them be prepared for the OVC championships (April 25th-27th in Muscle Shoals, AL).
In fact, Kayden couldn't have been more pleased to see senior Anthony Bradley play perhaps his spring season's best golf. He fired a 1-over 73 to finish in a 22nd-place tie overall. In addition, sophomore Chris Baker also had a second solid round with a 76 to end at 151.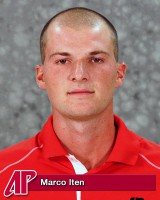 [3]Senior Marco Iten, who shot even par for the first round, struggled to a 81 in the second round while Tucker Wallace came in at 80 for a 154. Senior Trey Tarpley, who shot an impressive even-par 72 in the opening round, slipped to an 83 in the final round.
"For Anthony to come in at 1-over, that was phenomenal in these conditions," Kayden said. "That came just at the right time heading to OVCs.
"Chris has low flight on his shots and he was able to play well this week, keeping the ball low in these winds."
After playing an extremely competitive spring slate, Kayden believes his Governors should be ready for the OVC tourney.
"Our guys play against some awfully good teams and some good courses this spring," he said. "We have had the experience of being in first place (after a round) and understand what it is going to take (to win).
"We talked after the round today. We played in some extremely windy conditions this week and on a long links course at Muscle Shoals you know you are going to battling some wind. We should be ready for almost anything."
Box Score
Reunion Intercollegiate
Reunion Golf Country and Club | Madison, MS
Dates: April 14th-April 15th
| | | | | |
| --- | --- | --- | --- | --- |
| Finish | School – Players | Round 1 | Round 2 | Totals |
| 6 | Austin Peay State University | 293 | 310 | 603 |
| T 22 | Anthony Bradley | 77 | 73 | 150 |
| T 25 | Chris Baker | 75 | 76 | 151 |
| T 35 | Marco Iten | 72 | 81 | 153 |
| T 41 | Tucker Wallace | 74 | 80 | 154 |
| 47 | Trey Tarpley | 72 | 83 | 155 |
| | | | | |