APSU Sports Information

Ocala, FL – Austin Peay State University women's golf team plans for its second Florida trip to be much more successful than the first as the Lady Govs participate in the 2014 MSU Ocala Spring Invitational, Sunday-Tuesday, at the Juliette Falls Golf Club.
The 54-hole event will be played on a par-72, 6,113-yard layout that features 16 teams, including four Ohio Valley Conference schools—APSU, host Morehead State, Murray State and Eastern Kentucky.
The Lady Govs enter the tourney after ending the Bobby Nichols Intercollegiate with their short spring's best round. Finally shaking off the rust and frost from a winter that offered little practice or course time, APSU shot a respectable 316 as APSU rose to seventh in the final standings. In their opening tournament in Florida earlier in the month, the Lady Govs struggled to a 13th-place finish.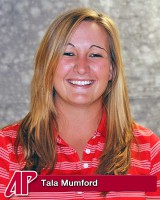 [2]"After finishing with a strong last nine holes in our last event, the girls are getting their feel back and we are excited to play this week," APSU coach Sara Robson said. "They are working hard and are ready to put together three good rounds. As we get closer to the OVC Championship, we are focusing on staying positive, controlling our thoughts and emotions and gaining confidence back after such a long winter."
APSU will go with the same lineup in Ocala as they did in Sevierville—seniors Tala Mumford and Rachel Deaton, sophomore Jessica Cathey and freshmen Morgan Kauffman and Morgan Gardner.
In particular, Cathey is coming off a strong performance, her 75-77 (152) leaving her in a third-place tie in Sevierville.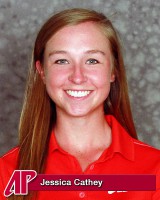 [3]In addition, freshman Morgan Kauffman became the second Lady Gov to break 80 with a 79, Tuesday, in the Bobby Nichols, leaving her in 24th place with a two-day total of 162.
"Jessica had a strong finish last week but was disappointed in a few of her shots, she is looking to play strong again this week," Robson said. "Our seniors, Tala and Rachel, are looking to continue the strong play they had in the fall.
"Morgan Kauffman has been consistent for us this semester; we need her focus on her timing and be patient. We have several players fighting for our fifth spot at the moment. Morgan Gardner will be playing that spot this week. We need her to believe in her short game and stay patient."