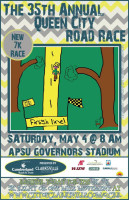 [1]Clarksville, TN – On Saturday the City of Clarksville's Department of Parks and Recreation held their 35th Annual Queen City Road Race on the campus of Austin Peay State University, late yesterday they released the results of the races.
It was a rainy, cold, miserable of a day for running but that didn't stop the 1,650 Racers who turned out to run challenge themselves by running in the race.
"It's absolutely awesome. It's amazing to me that 1,650 people would come out and brave the elements and participate want to run and walk and just get out be physically active! There's a lot of smiling faces and it's been a wonderful day, even despite the rain," said Clarksville Department of Parks and Recreation Director Mark Tummons, as we stood together at the finish line.
"Way to go you all! Good job!" shouted Tummon's as more runners crossed the finish line.
One of the new features this year was the addition of a 7k course which was intended to be a bit more challenging for the more elite runners.
"We heard from some of the runners that they wanted to be challenged little bit more than they were by just the 5K or 3.2 miles," said Tummons. "So we added a new 7K race to give a little more than a mile to the race for the more advanced runners. They wanted a little bit more challenge. So we did that this year."
He continued, "It certainly prove worthwhile because we've had in the neighborhood of 160 or 170 7K'ers come out. So that's incredible start for our first year offering that distance."
When when Tummons heard the winning time for the male and female winners of the 7K race, he remarked, "unbelievable, unbelievable. That's fantastic!" He then offered his personal congratulations to the winners of the various races and all of those who came out and ran, "Everyone who ran in the 2013 race can be proud of their commitment and dedication, and those who finished the race can be very proud of their achievement."
Running in the 5k Relay race was a team made of up four 11 year olds from Montgomery Central Middle School, the Central Indians. The team was composed of Tyler Thorton, Mason Walker, Jacob Parker, and Ian Daniel. They completed the race in just 18 minutes and 1 second, with Tyler Thorton being the first person to cross the 2013 Queen City Road Race finish line.
"They've all gone to Cumberland Heights Elementary School, and now Montgomery Central Middle School. They've all play ball together. So it was natural that they wanted to run the 5K relay race as a team," said Heidi Yetton who coached the team.
"Because I'm originally from the Boston area. I thought it would be nice if they would wear shirts to honor the victims of the bombings in Boston," she said. The shirts were red with the words "Boston Strong" on the back.
"They were all on board with that, and they're all proud of wearing the shirts and they're very proud of their win," said Yetton. "It feels like an honor!," Said Walker. "We're very proud," added Thorton.
26 year old Fort Campbell Soldier Kyle Cortin won the 7k race for the men with a time of 23:41, just three short weeks ago he was in Boston running in the Boston Marathon. "I was several blocks away when the bombs went off, I didn't see much" he said as he spoke to Eddie Owens from WJZM 1400 AM.
Cortin was followed by Devin Henry at 27:20, Jarrett McGaha at 27:45, and James Williams 28:07.
31 year old Lisa Carlock, a member of the Clarksville Running Club won the 7k for the Women with a time of 32:09. She was followed by Janel Rambo at 32:22, and Georgie Stimson at 32:35.
In the 5k Race, 24 year old Landon Lentz won for the men with a time of 18:08. He was followed by Francisco Jimenez at 18:17, Jim Town at 18:22, and Walter Leslie at 18:30.
For the Women, 10 year old Samantha McNaughton came in at 21:17. She was followed by Krista Morris at 23:16, and Elizabeth Tobin at 24:07.
The Youngest racer was 5 year old Jayce Woerner with a time of 33:32, and the oldest was 99 year old Aly Renollett with a time of 34:41.
Results
<![if !IE]><![endif]>
Photo Gallery