Austin Peay Lady Govs vs. Eastern Illinois
Monday, February 18th, 2013 | 7:00pm (CT)
Charleston, IL | Lantz Arena (5,400)

Clarksville, TN – Austin Peay State University women's basketball team looks to make it two wins in a row on its season-ending three-game roadtrip when the Lady Govs face Eastern Illinois, 7:00pm, Monday at Lantz Arena.
Austin Peay's defense held SIU Edwardsville to 25 percent shooting, Saturday, ending a three-game losing streak.
Lady Govs Ledger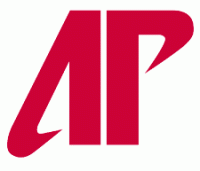 Austin Peay brings a 2-10 OVC record into the contest after defeating SIU Edwardsville, February 16th. The Lady Govs' defense has struggled in the team's OVC slate, allowing OVC opponents to shoot better than 40 percent from the floor nine times in 12 games (43.1 percent combined) and average 69.4 points per game; however, the Lady Govs held SIU Edwardsville to 25 percent shooting Saturday, the lowest figure a Carrie Daniels-coached APSU squad has limited an opponent.
APSU has won the turnover battle in 14 games this season – forcing its last six opponents into a total of 18.3 turnovers per game – and owns a plus-2.21 turnover margin. In addition, the Lady Govs defense has recorded 10-plus steals 14 times this season.
Only four APSU players have played in every contest. Seven players are averaging five or more points per game, with two averaging double figures (Meghan Bussabarger and Leslie Martinez at 13.2 and 10.8 points per game, respectively).
Panther Prospectus
Under first-year head coach Lee Buchanan, Eastern Illinois has maintained the success the perennial OVC power has come to enjoy. The 17-8 Panthers lead the OVC West Division and are in line for the top seed at next month's OVC Tournament in Nashville, TN. The Panthers enter Monday's matchup as winners of six in a row dating back to January 21st.
Home court has been kind for Eastern Illinois. The Panthers have won 10 home games in a row since a season-opening loss to Bradley at Lantz Arena.
Eastern Illinois is not in the business of allowing opponents second-chance opportunities; the Panthers rebound an OVC-high 73.4 percent of opponents' missed shots during conference play. The Lady Govs defense, which tortured SIU Edwardsville into 18 turnovers, has a tall order in Charleston.
The Panthers average an OVC-best 15.9 assists per game, led by Ta'Kenya Nixon's 5.7 apg (2nd in the OVC). Nixon and Mariah King lead the Panthers in scoring, both averaging 14.1 ppg. In Saturday's win over Murray State, EIU senior Sydney Mitchell scored her 1,000th career point.
An Austin Peay Win Would
Be its second consecutive victory – both coming on the road… be its third road conference win this season… make it 4-9 away from the Dunn Center in 2012-13… improve it to 3-10 in OVC play… make it 2-3 in February… improve Daniels' record to 80-133 overall and 53-69 in OVC play… make the Lady Govs 433-606 overall since 1976-77.
An Austin Peay Loss Would
Be its first loss on this season-ending three-game road trip… make it 2-11 in OVC play… make it 3-10 away from the Dunn Center this season… drop Daniels' record to 79-134 overall and 52-70 in OVC play… make the Lady Govs 432-607 overall since 1976-77.
Notes and Notables From Last Outing
Austin Peay Lady Govs vs. SIU Edwardsville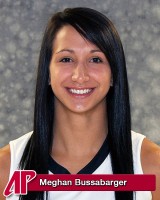 [3]The victory snapped Austin Peay's three-game losing streak to SIU Edwardsville and its three game slide during the month of February. Meghan Bussabarger scored a season-high 26 points – her sixth 20-point effort during the 2012-13 campaign – on 10-for-15 shooting. She's now just 40 points away from 1,000 for her career – meaning she needs to average 10 points over her fi nal four games to reach the milestone.
SIU Edwardsville shot a ghastly 25 percent (17-for-68) from the field, the lowest mark Austin Peay has allowed an opponent this season. It's the Cougars worst shooting performance since a 25 percent showing against Georgia Tech, December 19th, 2011. Prior to holding the Cougars to 25 percent from the floor.
The last time Austin Peay held an opponent below 30 percent from the floor was January 15th, 2011 against Tennessee State (25.5 percent). It was the lowest mark by a Lady Govs opponent since Memphis shot 16-for-73 (21.9 percent) against the Lady Govs, November 25th, 2005.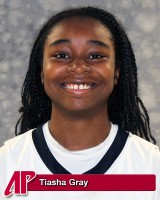 [4]Freshman Tiasha Gray scored a career-high 15 points and tied a career-best with six rebounds. With 13 steals, Austin Peay had its 14th double-digit steal game this season, and the sixth with 13 or more thefts. Austin Peay has forced at least 10 turnovers in every game dating back to January 16th, 2012 against Eastern Kentucky – a streak that reached 36 games against SIU Edwardsville.
Junior Nicole Olszewski tied a career high with four steals. She led the Lady Govs with eight rebounds, the third time in her career – and second in the last three games – she's led the squad on the boards. The Lady Govs improve to 5-0 in 2012-13 when leading at halftime.
Media Center
Radio: Governors Sports Network (Van Stokes, play-by-play)
Live Stats: www.eiupanthers.com
Live Audio: www.LetsGoPeay.com
ipTV: www.OVCDigitalNetwork.com
Head Coaches
Austin Peay – Carrie Daniels (Austin Peay, 1996) is 79-133 (.373) in her seventh season as a head coach at Austin Peay. Eastern Illinois – Lee Buchanan (Murray State, 1983) is 17-8 (.680) in his first season at the school and as a head coach.
Series
APSU leads 21-15 (9-8 in Charleston) | Streak: EIU, two wins | Daniels vs. EIU: 5-9