CLARKSVILLE – Austin Peay State University's baseball team will wrap up its 11-man early signing class with the addition of Jordan Harmon, of St. Louis, Mo., who has signed a National Letter of Intent.
Harmon, a 6-2, 205-pound right-handed pitcher, posted a 5-3 record and 3.04 ERA last season at Lindbergh High School. He struck out 42 batters over 48.3 innings pitched. Harmon also proved a capable hitter, batting .329 with 21 RBI.
"We believe that Jordan's brightest days are ahead of him as he continues to mature and get stronger," said Governors head coach Gary McClure. "His feel for pitching is already that of a college-level pitcher and we know that he will continue to develop. Jordan is a bulldog on the mound he's the type guy you want to have the ball when the game is on the line."
An all-conference pick as a junior, Harmon was ranked the No. 40 prospect in Missouri by Perfectgame.org. He played summer baseball with the St. Louis Pirates organization managed by former Governor Rick Strickland.

CLARKSVILLE – Austin Peay State University's baseball team will bring another submariner to Clarksville, signing Zach Walton, of Columbia, to a National Letter of Intent.
Walton, a 5-10, 175-pound right-handed submarine pitcher, played last season at Walters State Community College where he did not allow an earned run in 23 innings pitched over 15 outings. He struck out 23 batters and allowed only 14 hits and four walks.
"We have followed Zach's progress very closely and we believe he will be ready to step in and immediately fill the void in the back end of our bullpen when senior closer Tyler Rogers graduates," said Austin Peay head coach Gary McClure. "Zach is a hardnosed type guy and the bigger the situation, the better he becomes. He is a big addition to this class as he adds experience to what should be a younger bullpen next season."
Walton prepped at Spring Hill High School and played for former Governor catcher Paul Lamb. He was an all-state selection in 2010, after posting 10 wins and four saves as a senior. Walton also was a two-time all-region honoree and a three-time all-district pick. He was named to the Tennessee Baseball Coaches Association Super Sophomore team in 2009.

CLARKSVILLE – Austin Peay softball has added another piece to its 2012 recruiting class with the addition of Chandler Groves, a shortstop/catcher utility player from Cross Plains, Tennessee.
Groves prepped for Kevin Evans at East Robertson High School, hitting .406 with eight home runs and 19 RBI as a lead-off batter on her way to all-district and all-county honors. At one point, she homered in five consecutive games.
Groves brings some big-game experience with her. She was a pivotal part of East Robertson's 2010 squad that went to the semifinals of the Class A state tournament. She becomes the first player from East Robertson signed by Austin Peay since Tiffany Bell in 1998.
"Chandler will instantly add offense to our lineup," said Lady Govs head coach Stephanie Paris. "She's got a great swing with natural power. She's athletic enough to play catcher or shortstop at a high level and I'm anxious to see where she will fit in best."

There were plenty of games on the boys high school basketball schedule Monday and Tuesday night.
Kenwood improved to 4-0 after wins over Cheatham County on Monday and a 47-46 win over Clarksville High in the District 10-AAA opener for both Tuesday.
Northeast also picked up an opening 10-AAA victory by beating Henry County 67-52.
Rossview and West Creek lost their opening District 10-AAA games.
Clarksville Academy lost a non-district game to Stewart County

Tuesday's Games
Northeast 67, Henry Co. 52
Dickson Co. 74, West Creek 42
Kenwood 47, Clarksville High 46
Stewart County 45, Clarksville Academy 42
Station Camp 64, Rossview 57
Monday's Game
Kenwood 71, Cheatham County 65
Kenwood                            18  15  16  22       71
Cheatham County           13  15  18  19        65
Kenwood                                                                            Cheatham County
Guy Stanford 5                                                                  Devin Conner  9
Trent McLaurin 18                                                            Wesley Harlan 3
Daniel Norl 22                                                                   Jordan Darden 16
Maleek Hall 20                                                                  Jake Saunders  28
Legree Hairston 2                                                            Thatcher Brinkley 5
Matthew Norl 4                                                                Mason Bates 2
Billy Thomas 2
                                                            Totals
19 2's  15-23 FT                                                                  23 2's  10-18 FT
6 3's (Stanford 1, Norl 4, Hall 1)                                  3 3's (Harlan 1, Saunders 2)
Cheatham County at Kenwood Photo Gallery

The girls high school basketball season is well underway and here are scores from Monday and Tuesday night games.
Tuesday night was the big night but the Kenwood Lady Knights were the only local team to win in a 55-46 victory over Clarksville High in District 10-AAA action.
Northwest, Rossview, West Creek and Northeast all lost their 10-AAA games.
Kenwood also won Monday night beating Cheatham County 72-64.
Tuesday Night's Scores
Kenwood 55, Clarksville 46
Springfield 44, Northwest 40
Station Camp 60, Rossview 45
Dickson County 69, West Creek 65
Henry County 65, Northeast 36
Monday Night's Scores
Hendersonville 58  Clarksville 32
Kenwood 72, Cheatham County 64
Cheatham County at Kenwood Photo Gallery

CLARKSVILLE – Austin Peay softball continues the early signing period by adding utility player Christiana Gable, of Nolensville, Tuesday, for the 2013-14 season.
Gable hails from Ezell-Harding High School, where she was a jack-of-all trades for head coach Don Freudenthal and a two-time all-region performer. In 2012, she batted .545 (55-for-101) and hit five home runs and 17 doubles and batted in 41 runs to lead Ezell-Harding to the Division II Class A sub-state level in the state tournament.
In addition to her prowess at the plate, Gable is a force to be reckoned with in the circle. She has thrown five perfect games during her high school career and has 40 victories as a starter the last two seasons.
While Gable's pitching can be a bonus, Austin Peay head coach Stephanie Paris is counting on her to become a force in the middle of the lineup when she arrives in Clarksville.
"Christiana has great power potential and I see her stepping right into a role as a big offensive leader," Paris said. "We see her as a corner infielder for us at the college level. It's also a positive to have a position player who can come in and give you some innings as a pitcher if you need them."
APSU Sports: Austin Peay Men's Basketball

Cancun, Mexico – Austin Peay State University nailed three consecutive three pointers amidst an 11-0 second-half run as the Governors rallied from 12-point deficit to defeat Western Carolina, 72-71, Tuesday afternoon during Mayan Division action of the Triple Crown Cancun Challenge, being played at the Moon Palace Resort.
The victory snapped the Governors two-game losing streak and pushed them back to the .500 mark at 2-2. Western Carolina, meanwhile, falls to 1-4 on the season.
The victory certainly came as a result of several ebbs and flows during the game. APSU fell behind 8-0 but led by Anthony Campbell were able to tie it at 14-14 with 11:47 to play. But much of the half's remainder belonged to Western Carolina, which went on a 14-2 run to build a 12-point advantage, 28-16.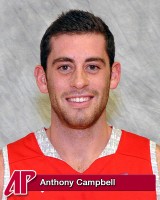 APSU could get no closer than 10 points the remainder of half and would have been down by 14 at intermission without Campbell's perimeter jumper at the buzzer.

The deficit remained double digits for much of second half's first five minutes. But the Govs then made the first of two key second-half surges. The first was a 12-2 surge that saw APSU cut the margin down to two, 50-48, as Campbell scored five during the run, including a three pointer.

Then came the decisive run. With APSU down 58-57 with 7:53 left, junior Travis Betran sparked the Govs. First freshman guard Corey Arentsen found Betran for a three-pointer to give APSU a 60-58 lead. After Western Carolina missed a three, Betran popped up and made a second straight three pointer, again from Arentsen.

A missed Catamount layup was followed by an Arensten three, forcing Western Carolina to call a timeout down 66-58. The Govs momentum continued as Western Carolina came up empty on its next possession with Lawrence capping the 10-0 run with an off-balance driving layup to give APSU its biggest advantage, 68-58 with 4:38 left.

But the veteran Catamounts battled back, taking advantage of APSU consistent concern in the early season-turnovers. When Trey Sumler, the preseason All-Southern Conference guard selection nailed a three pointer with 1:56 left, it made it a 70-65 game with 1:56 left.

Lawrence kept the door open for Western Carolina when he was unable to convert a free throw with the Govs up by five with 52 second left. James Sinclair responded with a bucket to make it a three point game, 72-69, with 47 seconds left.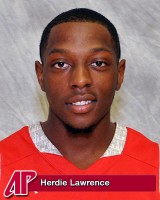 That set the stages for a bizarre ending. Western Carolina elected to play pressure defensive and not foul. After an APSU timeout the shot clock was not resumed, forcing the officials to call timeout with 16.6 seconds left. When the Govs inbounded the ball, Campbell attempted to get it to Lawrence, with the sophomore guard stepping out of bounds attempting to retrieve the errant pass.
That left Western Carolina with 14 seconds to tie the game. Sumler was unable to shake free of the determined Betran, leaving it to James Sinclair for the three-point attempt. It was missed. The Cataomounts Tawaski King grabbed the rebound with his team still needing a three pointer. He went up underneath only to have Freeman blocked his first shot attempt. His second dropped through at the buzzer, one point short for Western Carolina.
Betran, with 13 second-half points, led the Govs with 22 while Campbell, who had 12 at intermission, added 21.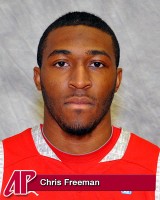 Chris Freeman, starting in place of the absent Will Triggs, shook off a struggling first half to finish with 11 points and 10 rebounds, his second double-double of the young season.
Arentsen had a eight points and a team-high four assists while fellow freshman, center Chris Horton, scored only two points but blocked four shots while altering several others in the second half.
The Govs, who had endured a shooting slump that saw them shoot no better than 40 percent from the floor in five straight halves including Tuesday's first half (37.5 percent), scorched the Cancun ballroom for 70 percent (14 of 20) shooting in the second half.
Triggs, who misplaced his passport in Chicago, is expected to join his teammates for Wednesday's game.
Box Score
Western Carolina vs Austin Peay
11/20/12 12:30pm at Moon Palace Resort (Cancun, Mexico)
Western Carolina 71
Total
3-point
Rebounds
##
Player
p
fgm-fga
fgm-fga
ftm-fta
off-def
tot
pf
tp
a
to
blk
stl
min
00
TANKELEWICZ, Tom
f
2-6
1-5
0-0
0-0
0
2
5
0
1
0
1
12
32
KING, Tawaski
f
5-11
0-0
2-6
6-1
7
2
12
3
0
0
0
34
40
ROSS, Preston
f
7-12
0-1
0-0
3-6
9
3
14
4
0
1
2
35
05
SUMLER, Trey
g
7-12
1-3
1-2
1-4
5
1
16
1
4
0
0
34
24
BOGGS, Brandon
g
4-14
1-3
0-0
1-2
3
2
9
1
1
0
1
24
01
HALL, Kenneth
–
0-1
0-0
0-0
1-0
1
1
0
0
1
1
0
4
02
BROWN, Mike
–
0-1
0-1
0-0
1-2
3
0
0
2
0
0
0
6
03
HARRELSON, Rhett
–
1-3
1-3
0-0
0-1
1
0
3
1
0
0
2
14
14
MENDENHALL, Josh
–
1-2
0-0
0-0
1-0
1
1
2
0
1
1
0
6
25
SINCLAIR, James
–
4-10
2-7
0-0
1-4
5
3
10
6
1
0
2
31
TM
Team
–
–
–
–
2-0
2
–
–
–
1
–
–
–
Totals…………..
–
31-72
6-23
3-8
17-20
37
15
71
18
10
3
8
200
43.1%
26.1%
37.5%
Team summary:
FG
3FG
FT
1st Half:
18-34
4-11
2-4
52.9%
36.4%
50.0%
2nd Half:
13-38
2-12
1-4
34.2%
16.7%
25.0%
Austin Peay 72
Total
3-point
Rebounds
##
Player
p
fgm-fga
fgm-fga
ftm-fta
off-def
tot
pf
tp
a
to
blk
stl
min
15
FREEMAN, Chris
f
4-9
0-0
3-4
2-8
10
2
11
3
3
2
0
36
25
CAMPBELL, Anthony
f
7-13
3-7
4-5
1-4
5
2
21
2
4
0
2
37
05
HORTON, Chris
c
1-2
0-0
0-0
1-2
3
2
2
0
0
4
0
21
04
BETRAN, Travis
g
8-13
4-7
2-2
0-6
6
0
22
3
2
0
0
36
23
LYNCH, AJ
g
1-3
0-2
0-2
0-0
0
0
2
1
3
0
0
18
11
GREER, Thomas
–
0-1
0-0
0-0
0-0
0
0
0
1
0
0
0
5
20
ARENTSEN, Corey
–
3-8
2-5
0-0
2-1
3
0
8
4
1
0
2
25
22
LAWRENCE, Herdie
–
2-3
0-1
2-3
1-3
4
3
6
3
3
0
0
18
33
HASSE, Matt
–
0-0
0-0
0-0
0-1
1
2
0
0
0
0
0
4
TM
TEAM
–
–
–
–
1-1
2
–
–
–
–
–
–
–
Totals…………..
–
26-52
9-22
11-16
8-26
34
11
72
17
16
6
4
200
50.0%
40.9%
68.8%
Team summary:
FG
3FG
FT
1st Half:
12-32
3-13
3-5
37.5%
23.1%
60.0%
2nd Half:
14-20
6-9
8-11
70.0%
66.7%
72.7%
| | | | | |
| --- | --- | --- | --- | --- |
| Score by Periods | 1st | 2nd | Total | |
| Western Carolina | 42 | 29 | 71 | Record: (1-4) |
| Austin Peay | 30 | 42 | 72 | Record: (2-2) |
Officials: Darryl Smith, Dan Fouser, Forrest Sigler
Technical fouls: Western Carolina-None. Austin Peay-None.
Attendance: 902
2012 Triple Crown Sports Cancun Challenge
As I start this, I want to be up front with you right from the beginning;  I am a Notre Dame fan and have been since the days of watching coach Ara Parseghian and Lindsey Nelson on the Notre Dame Football Show back in the 1960's before going to church on Sundays.
Now with that out of the way.
I understand that Notre Dame football is like the New York Yankees in Major League Baseball, the New England Patriots in the National Football League, the Detroit Red Wings in the National Hockey League and Duke in college basketball – people either love them of hate them — there is little if any middle ground.  But most fans will also tell you that when these teams are good and winning titles, or at least in the running for a championship, their sport is better.
Such is the case with the Irish.
Not since 1988, under Lou Holtz, have the Irish won a national championship and not since the early 1990's has Notre Dame football even been considered among the elite of the college football world – despite two 10-win seasons in 2002 and 2006.
People felt Notre Dame football had become irrelevant on the college football landscape and the Irish fan base unrealistic dreams of days gone by, a fight song, old movies of past glories and a TV deal — that other schools could only dream of that was undeserved.
Notre Dame was too proud, too highbrow and with expectations in the classroom that wouldn't, couldn't work in today's world of college athletics and still expect championships.
I admit the Irish have made some mistakes over the years since their last national championship, but this team – which started the season unranked in one poll and No. 24 in the other, is 11-0 and ranked No. 1 in the BCS standings, with only a beaten-down USC standing between them and a shot at the national championship.
Not possible right?
Well, coach Brian Kelly – in his third season — has the Irish poised for not only a title this season, but in position to have a consistent team in the national title hunt for the long haul.  Still, hate is what millions of college football fans have toward Notre Dame and they root against the Irish no matter what.  But it's that emotion that Notre Dame drives that has kept the program relevant and now being a win away from playing for the national championship … there will be more attention on this title game than any other in the history of the BCS and TV ratings too.
All I'm saying is this; other national powers, including Alabama the prohibitive favorite to face the Irish for the BCS Championship have had slumps and no, Notre Dame isn't going to run off with multiple national championships, like in the 40s and 60s.  But the Irish are still the Irish and the game is at its best when the blue bloods of the sport are winning.
Notre Dame is among that group, it's time to stop hating and accept it.

CLARKSVILLE, Tenn. – Austin Peay senior quarterback Jake Ryan has been named the Copies in a Flash APSU Athlete of the Week.
Ryan took OVC Co-Offensive Player of the Week honors for his Senior Day performance against Tennessee Tech. He was 27-for-38 for 310 yards and four touchdowns in the Govs 38-31 victory over the Golden Eagles in Ryan's Austin Peay swan song.
His four touchdown tosses were the most by a Govs quarterback since Oct. 25, 2008 (Trent Caffee). Over the course of his final four quarters as Austin Peay's quarterback, Ryan moved into second place all-time in career completions (497) and became the third Gov to finish his career with more than 5,000 yards passing.
The Copies in a Flash APSU Athlete of the Week is selected by the APSU Sports Information staff each Tuesday during the academic year. Copies in a Flash, of Clarksville, sponsors the award.
Other notable performances by Austin Peay athletes included:
Senior forward Leslie Martinez, of the women's basketball team, averaged 17 points in two games last week, including a season-high 20 in Austin Peay's first 2012 victory, a 71-67 win against Binghamton, Sunday.
Junior defensive end Earnest Smith, of the football team, had 2.5 tackles for loss, including a sack, to go along with six tackles, a forced fumble and fumble recovered in the Govs Senior Day victory against Tennessee Tech, Saturday.
Freshman forward Chris Horton, of the men's basketball team, averaged 7.0 points, 7.0 rebounds and 2.0 blocks in two games for the Govs last week, highlighted by a 12-point, 10-rebound effort against Western Kentucky.