ATLANTA — The Braves created some anticipation with the release of their 2013 Spring Training schedule. Atlanta will open its exhibition season on Feb. 22 when it plays host to the defending American League champion Tigers at Disney's ESPN Wide World of Sports complex. After hosting the Yankees the following day, the Braves will travel to Bradenton, Fla., on Feb. 24 to play the Pirates.
After playing 35 games in Florida, the Braves will make their final preparations for the regular season with a game against their top Minor League players. This game will be played in Pearl, Miss., on March 30 at Trustman Park, the home of the Double-A Mississippi Braves.
The Braves will open the regular season against the Phillies on April 1 at Turner Field.
Atlanta's pitchers and catchers are scheduled to report to Spring Training on Feb. 11 in preparation of their first workout the following day. The remainder of the club will be scheduled to report on Feb. 14. The first full-squad workout will be held on Feb. 15.
This marks the 16th consecutive season that the Braves will stage their Spring Training activities at the Disney complex.
The Nationals and Tigers are both scheduled to make three visits to Disney this season. The Braves will play two home games against the Yankees, Mets, Astros and Marlins.
Of the 18 games scheduled to be played at Disney, four will be played at night: March 1 against the Nationals, March 7 against the Tigers, March 16 against the Yankees and March 21 against the Nats. The Yanks game is on a Saturday and will begin at 5:05 p.m. ET. The other three night games will begin at 6:05 p.m. ET.
Because many players will be participating in the World Baseball Classic, each Major League team will have more scheduled off-days than normal. The Braves are not scheduled to play on March 6, 19 and 27.

By Emily Dobrowski, Titans Online
NASHVILLE, Tenn. — When driving into Latin America's largest landfill from the civilized streets of Guatemala City, Titans wide receiver Damian Williams
least expected to see children living in a village of trash.
"It's hard not to be hurt to see it," Williams said. "Once you start to drive through it and navigate it, it's shocking. You see the people and you see the way they're working. They are diligent workers; they just have nothing."
Williams and his girlfriend immersed themselves in the severe poverty conditions of Guatemala City, Guatemala this offseason during a mission trip with Hope Renewed International.
Deviating from the volunteering norm of professional athletes, Williams and his girlfriend ventured to Guatemala City hoping to aid the children inhabiting one of Central America's largest garbage dumps.
"The people live in whatever they can find to make their houses out of scrap metal or wood. All of their houses are basically made of trash, and that's where they get their meals. It's one of those things that you hear about it, but you don't expect it to be as bad as it sounds," said Williams.
Locally referred to as 'the Dump' or 'the Mine', the Central American wasteland is inhabited by thousands of people and is a viable residence to Guatemalans due to its free cost. Throughout the trip, the group assisted various Guatemalan city orphanages; however, the volunteers primarily focused on the children of the landfill who live in the devastating conditions.
Williams witnessed the children scavenging for food amongst the waste.
"That was the most heartbreaking part to see, because they can't really do anything about the situation. At least the adults can go out and work, but these kids don't have an education; they can't go to school, because nobody will take them there. They can't afford food."
Because the children were clearly deprived of stability and daily resources, Williams and the other volunteers wanted to provide them with something permanent and a break from their daily hardships. The Hope Renewed International volunteers constructed a playground in the village of the dump by the end of the trip. The volunteers' contribution allowed the children to finally partake in an ordinary and overlooked activity enjoyed by youth in developed countries.
Hope Renewed International is a religious nonprofit humanitarian and relief organization dedicated to helping at-risk developing cities. Williams' participation with the organization was initiated by one of his home mentors from Springdale, Ark.
"This was the first time that I had ever gotten involved with that organization. I've heard about them for years and have been in correspondence, but I had never actually gotten the chance to meet those people or get involved," he said.
Williams hopes to recruit some of his Titans teammates to join him next off-season in Guatemala, as he plans to return with Hope Renewed International, especially because the of the trip's powerful impact.
"It was probably the best trip that I have ever made in my life. It will probably be my yearly trip."
Although it was Williams' first mission trip, his participation in the religious community is central to his life. Prior to living in Arkansas, Williams grew up in Louisiana, where a family with a strong faith surrounded him.
"My whole family all lived probably within a block together and we would all go to church together. That's just what you did. You couldn't do anything during the week if you didn't go to church."
After leaving Arkansas for the University of Southern California, such a reliable religious community became absent from Williams' life. Perceiving the religious community on campus as insufficient, he was compelled to institute the campus bible study group 'Generate USC' with fellow teammate Matt Barkley.
Supported by his involvement with Hope Renewed and Generate USC, Williams said actions reveal a person's faith better than words.
"If you're a man of God, it should be shown through your actions, it should be displayed, and people should know about it," Williams said. "You don't have to say it, it should be displayed by the way that you carry yourself."
Williams arrived in Tennessee after entering the 2010 draft and being selected as the Titans' third-round draft pick. As compared to the preceding levels of football, he noticed an apparent eclipse of faith by economic focus throughout the league.
He, however, has been pleased with the religious respectfulness and presence throughout the team and believes second-year head coach Mike Munchak has instrumented it.
"I think that's the direction that Munch wants this team to go — for guys to have faith and for guys to believe in what we're doing, and I think that's a great testament to him."
Williams commended Munchak for never failing to remind the team and coaches of the daily services or the weekly Bible groups. Williams, along with fellow teammates and coaches, hold a team Bible Study every possible Thursday. Williams dignifies the support of the group as an invaluable resource of his professional career.
"Obviously, in this profession, a lot of things come up, at this point of the year especially, people battling thoughts in their head, battling friends, family, temptations outside, whatever the case may be, and it's just nice to have a core group of guys you know who you can talk to and who can relate to what you're going through."
Knoxville Tn – The University of Tennessee announced today that Derek Dooley will not return as the head football coach of the Vols. The announcement was made by Vice Chancellor and Director of Athletics Dave Hart, who will immediately begin a search for a new head coach for the Vols.
Hart will address the media at 2 p.m. today (Sunday, Nov. 18) at the Stokely Family Media Center at Neyland Stadium. The press conference will also be streamed live on UTSports.com.
"We very much appreciate the effort and energy that Derek Dooley and his staff have poured into our football program at the University of Tennessee," said Hart. "Derek and I met early this morning, and I informed him that I believed a change in leadership, despite the positive contributions he has made to the overall health of the program, was in the best long-term interests of Tennessee football. We will immediately begin the search for the best possible candidate to assume this leadership role."
Dooley will not coach the Vols in the season finale against Kentucky on Saturday, Nov. 24 at 12:21 p.m. Offensive coordinator Jim Chaney will serve as interim head coach for Saturday's game.
"I am sorry we could not generate enough wins to create hope for a brighter future," said Dooley. "Although progress was not reflected in our record, I am proud of the strides we made to strengthen the foundation for future success in all areas of the program.
"During the last 34 months, I've given my all for Tennessee, and our family appreciates all this University and the Knoxville community has given us."

Austin Peay opened the current homestand with a 90-52 loss to No. 8 Louisville, Thursday. Two large shooting droughts, a five-minute outage in the first half followed by a more damaging 10-minute stretch in the second half, doomed the Lady Govs. Austin Peay committed 23 turnovers – its second straight 20-plus turnover outing – which Louisville used to score 30 points.
Senior Leslie Martinez led Austin Peay with 14 points, the first time she has led the team in scoring during her career. Senior Kaitlyn Hill grabbed a game-high and career-high tying 13 rebounds. The Lady Govs bench was limited to nine points as a trio of freshmen – Jennifer Nwokocha (3 pts), Alexis Hardaway (2 pts) and Tiasha Gray (0 pts) – combined for 52 minutes.
Bearcats Bulletin
Binghamton opened its season with losses at St. Bonaventure (61-31) and against Cornell (60-56). The Bearcats are making a two-game swing through Middle Tennessee and will play at Belmont, Tuesday. Binghamton enters Sunday's contest battling the same scoring woes that have beset Austin Peay early this season, averaging 45.0 points per game and shooting only 29.9 percent from the floor.
Junior Jasbriell Swain posted a 12-point, 11-rebound effort in the loss to Cornell and is averaging 7.0 points and 9.0 rebounds per game. Sophomore Sharae Swinson leads the team with 8.0 points per game, scoring 12 points against Cornell.
Lady Govs Add St. Catharine To Schedule
Austin Peay State University women's basketball team has added St. Catharine College to its 2012-13 schedule in a game to be played at 4:00pm, Sunday, December 9th at the Dunn Center. The game replaces the December 15th contest against Christian Brothers which was cancelled due to a scheduling conflict.
Austin Peay season ticket holders who have a ticket for the December 15th contest may use that ticket for the December 9th game.
An Austin Peay Win Would
Be its first win in 2012, improving it to 1-2 this season… level its home record at 1-1… make it 2-0 against members of the America East Conference… improve Daniels' record to 73-119 overall… make the Lady Govs 426-591 overall since 1976-77.
An Austin Peay Loss Would
Be its third straight loss to begin the 2012 season and fourth-straight loss dating back to last season… drop it to 0-2 at the Dunn Center… drop Daniels' record to 72-120 overall… make the Lady Govs 425-592 overall since 1976-77.
Freshman Trio Eating UP Minutes Early
The freshman trio of Tiasha Gray (21.0 mpg), Jennifer Nwokocha (18.5 mpg) and Alexis Hardaway (17.0 mpg) have found themselves heavily involved in the Lady Govs first two contests, combining for 113 of the team's 400 minutes (28.3 percent). Their inexperience has shown in the early going, as they have combined to score 20 points and grab 10 rebounds.
You've Lost That Leading Feeling
When Austin Peay made the first field goal against Louisville, it was the Lady Govs first lead this season. That lead lasted just 1:35 before the Cardinals responded with a three-pointer to take the lead for good. Austin Peay did not hold the lead in its season-opening loss at UAB.
Looking A Gift Horse In the Mouth
Austin Peay has ventured to the free-throw line 30 times in its first two games but has not done well at the stripe, converting just 53.3 percent of its tries (16 FTM). Sophomore Shelby Olszewski cannot be held accountable for those woes as she has posted a clean sheet (4-of-4) in the first two games. Without her, the team's percentage plummets to 46.2 percent (12-of-26).
APSU Sports: Austin Peay Football

Clarksville, TN – After racing out to an early 31-0 lead, Austin Peay's football team survived a furious Tennessee Tech comeback to hang on for a 38-31 Ohio Valley Conference victory on Senior Day.
The victory gives Austin Peay (2-9, 1-7 OVC) its first Ohio Valley Conference win in 2012, as well as a victory in Sgt. York Trophy contests every season since the award's inception in 2007. Tennessee Tech falls to 3-8 (1-7 OVC). Austin Peay's 38-point outburst is the Govs largest scoring output in 46 meetings with the Golden Eagles.
"We knew they would make a run at us," said head coach Rick Christophel. "We caught some breaks and capitalized. We had a good game plan and our guys made some plays."
Austin Peay used some trickery to get on the board first. Terrence Oliver took a hand-off from Jake Ryan, who lateralled back to Ryan, who fired downfield to Jamaar Embry for a 38-yard score. It's the second time this season Ryan and Embry have hooked up on a deep touchdown on a trick play; the duo scored on a double lateral pass against Southeast Missouri, October 27th.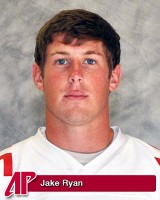 After a missed field goal attempt negated a long Tennessee Tech drive, Ryan led the Govs on a 14-play, 80-yard drive that ate up more than six minutes of clock and culminated with a 16-yard touchdown run by sophomore Ean Pemberton.
Following a Tennessee Tech three-and-out, Ryan marched the Govs down the field again. An eight-play, 78-yard drive ended with a two-yard toss from Ryan to senior Devin Stark. The score was Stark's seventh in 2012 and his 17th career touchdown.
A Stephen Stansell field goal and a second touchdown pass to Stark, this one from 14 yards out, gave the Govs a 31-0 halftime lead. It was the first time Austin Peay has scored 30 points in a half against an OVC opponent since November 21st, 2009 against UT Martin.

Austin Peay's defense limited the Tennessee Tech attack in the first half. The Govs forced five three-and-outs in the first half, in addition to recovering a fumble on the opening kick-off. The Govs defense also forced five fumbles on the day, its most since October 7th, 2000 when five fumbles were forced against Dayton.

The Golden Eagles got on the board on the second half's opening drive with an 11-play, 71-yard drive that was punctuated by a one-yard plunge by Doug Page.

Stark hauled in his third touchdown catch of the day – and the ultimate game-winning score – in the third quarter. Following Adam Noble's second forced fumble of the day, Austin Peay took over on the Tennessee Tech 22-yard line. On the first play of the drive, Ryan dropped back and found Stark in the end zone for the third time; in addition to it being Stark's second career three-score game, it marked Ryan's first four-touchdown performance in his Austin Peay career.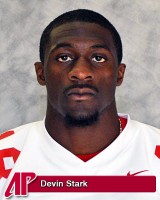 Tennessee Tech would resume its comeback attempt following the Govs score. Da'Rick Rogers caught a six-yard touchdown pass in the third quarter, the first receiving touchdown given up by the Govs since October 13th at Eastern Kentucky.
Following Page's second one-yard touchdown run and a Govs three-and-out, Tennessee Tech brought cut the deficit to 10 on a 20-yard touchdown pass from Darian Stone to Neil Gannaway.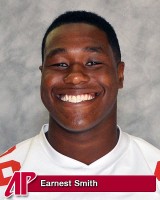 After a 26-yard field goal by Zach Sharp made the score 38-31, Tennessee Tech would attempt an onside kick. The high bounce hit off Daryl Clack's hands and was recovered by Jamel Cook, giving the Golden Eagles a chance to drive for the game-tying touchdown.

But two Golden Eagle penalties and a huge sack by Earnest Smith, his season's fourth, forced Tennessee Tech into fourth-and-32, and Stone's pass to a double-covered Rogers fell incomplete and the Govs survived for their second victory this season.

"We made some plays and defensively we are starting to get there," said Christophel. "We were running into the ball better, we made some plays, we had some turnovers today, and that's what it's all about. I think we are improving towards the end of the season. If our kids will get in the weight room in the offseason, stay in school, and do the things that we are supposed to do I think we'll just keep coming on."
Photo Gallery
no images were found
Box Score
Tennessee Tech (3-8,1-7) vs. Austin Peay (2-9,1-7)
Date: Nov 17th, 2012 • Site: Clarksville, TN • Stadium: Governors Stadium • Attendance: 3738
| | | | | | |
| --- | --- | --- | --- | --- | --- |
| Score by Quarters | 1 | 2 | 3 | 4 | Score |
| Tennessee Tech | 0 | 0 | 14 | 17 | 31 |
| Austin Peay | 14 | 17 | 7 | 0 | 38 |
SCORING SUMMARY
TTU -APSU
1st
12:30
APSU
EMBRY, Jamaar 38 yd pass from RYAN, Jake (STANSELL, Steph kick)
2 plays, 42 yards, TOP 0:41
0 – 7
01:55
APSU
PEMBERTON, Ean 16 yd run (STANSELL, Steph kick)
14 plays, 80 yards, TOP 6:17
0 – 14
2nd
08:10
APSU
STARK, Devin 2 yd pass from RYAN, Jake (STANSELL, Steph kick)
8 plays, 78 yards, TOP 3:22
0 – 21
04:52
APSU
STANSELL, Steph 43 yd field goal
5 plays, 44 yards, TOP 1:53
0 – 24
00:55
APSU
STARK, Devin 14 yd pass from RYAN, Jake (STANSELL, Steph kick)
8 plays, 78 yards, TOP 2:07
0 – 31
3rd
09:45
TTU
PAGE, Doug 1 yd run (SHARP, Zach kick)
11 plays, 71 yards, TOP 3:32
7 – 31
06:54
APSU
STARK, Devin 23 yd pass from RYAN, Jake (STANSELL, Steph kick)
1 play, 23 yards, TOP 0:07
7 – 38
02:50
TTU
ROGERS, Da'Rick 6 yd pass from STONE, Darian (SHARP, Zach kick)
10 plays, 58 yards, TOP 3:58
14 – 38
4th
12:56
TTU
PAGE, Doug 1 yd run (SHARP, Zach kick)
10 plays, 84 yards, TOP 3:12
21 – 38
06:27
TTU
GANNAWAY, Neil 20 yd pass from STONE, Darian (SHARP, Zach kick)
9 plays, 52 yards, TOP 3:21
28 – 38
02:12
TTU
SHARP, Zach 26 yd field goal
12 plays, 38 yards, TOP 2:11
31 – 38
Kickoff time: 11:08am • End of Game: 2:30 • Total elapsed time: 3:22 Referee: Ken Switzer • Umpire: Thomas Floyd • Linesman: Chris Flatt • Line judge: Phillip DeWitt • Back judge: Tom Hahs • Field judge: Rod Whittier • Side judge: Tim Fetsch • Scorer: APSU Stat Crew • Temperature: 51 • Wind: Calm • Weather: Clear
Rosemont, IL – DePaul turned 18 first-half turnovers into 31 points as it rolled past Austin Peay State University, 98-67, Saturday afternoon in second-round action of the Triple Crown Cancun Challenge, played at Allstate Arena.
Tourney action will now move to the Moon Palace Resort in Cancun for the tourney's final two days of action, beginning Tuesday.
An inauspicious start, Saturday, was a precursor to a contest that saw APSU commit 27 turnovers-the most by a Govs team since they had 29 in a 68-58 win against Tennessee State, January 14th, 1999. The Govs could not get the ball past midcourt on its first three possessions against the DePaul full-court pressure and didn't get their first shot until 1:41 had clicked off the clock.
DePaul was on a mission after being stunned 71-59 by Gardner-Webb, Thursday night, and the Blue Demons took out that frustration on the Governors.  Cleveland Melvin, the Big East's leading returning scorer, finished with 26 points and eight rebounds while his fellow junior wingman Brandon Young had 17 points and five assists.
Despite the Governors struggling start, they actually had the ball down just 10-9 with 14:47 left in the half.  But DePaul, again taking advantage of seven APSU turnovers over the next 3 ˝ minutes, then went on a 22-4 run that broke open the game.
APSU trailed 58-30 at halftime and never got closer than 24 in the second half. DePaul recorded 11 of its 16 steals in the first half.
Even the return of point guard Jerome Clyburn could not stem the ball security issues. Clyburn suffered underwent surgery for a torn meniscus, October 31st, and returned to the practice floor, Thursday. Coming off the bench, he finished with four points in 14 minutes.
Senior forward Anthony Campbell led the Govs with 17 points, scoring 13 of them in the final half. His fellow Edwardsville, IL, native Will Triggs added 12 and a team-high eight rebounds. Junior guard Travis Betran added 11 points.
Austin Peay vs DePaul Box Score
11-17-12 1:00pm at Allstate Arena – Rosemont, IL.
Austin Peay 67
Total
3-point
Rebounds
##
Player
p
fgm-fga
fgm-fga
ftm-fta
off-def
tot
pf
tp
a
to
blk
stl
min
05
HORTON, Chris
f
1-5
0-0
0-1
0-4
4
2
2
0
4
2
3
30
10
TRIGGS, Will
f
2-4
0-0
8-8
2-6
8
2
12
0
6
1
0
26
25
CAMPBELL, Anthony
f
8-13
1-4
0-0
2-3
5
1
17
0
3
0
0
32
04
BETRAN, Travis
g
2-5
1-2
6-6
0-0
0
2
11
3
2
0
0
22
23
LYNCH, AJ
g
2-7
0-2
1-2
1-0
1
0
5
3
3
0
2
26
01
CLYBURN, Jerome
–
1-2
0-1
2-3
0-1
1
0
4
1
2
0
1
14
11
GREER, Thomas
–
0-1
0-1
0-0
0-1
1
3
0
2
1
1
0
7
15
FREEMAN, Chris
–
2-6
0-0
3-5
2-5
7
4
7
0
1
1
0
15
20
ARENTSEN, Corey
–
2-4
2-4
0-0
0-1
1
0
6
1
1
0
1
13
21
HERRING, Preston
–
0-1
0-0
0-0
0-1
1
1
0
0
1
0
0
4
22
LAWRENCE, Herdie
–
1-4
0-2
1-2
1-0
1
0
3
0
2
0
0
6
24
HARMS, Joe
–
0-0
0-0
0-0
0-0
0
0
0
0
0
0
0
2
33
HASSE, Matt
–
0-1
0-0
0-2
1-0
1
0
0
1
0
1
0
3
TM
TEAM
–
–
–
–
1-4
5
–
–
–
1
–
–
–
Totals…………..
–
21-53
4-16
21-29
10-26
36
15
67
11
27
6
7
200
39.6%
25.0%
72.4%
Team summary:
FG
3FG
FT
1st Half:
9-23
1-6
11-14
39.1%
16.7%
78.6%
2nd Half:
12-30
3-10
10-15
40.0%
30.0%
66.7%
DePaul 98
Total
3-point
Rebounds
##
Player
p
fgm-fga
fgm-fga
ftm-fta
off-def
tot
pf
tp
a
to
blk
stl
min
21
CROCKETT, Jamee
f
2-5
0-2
1-2
3-5
8
4
5
2
1
1
4
14
23
KIRK, Donnavan
f
1-4
0-1
0-0
2-0
2
1
2
2
0
2
0
18
32
McKINNEY, Charles
f
2-5
0-0
0-2
1-0
1
2
4
2
1
0
1
19
12
MELVIN, Cleveland
g
11-18
2-2
2-4
5-3
8
2
26
3
2
0
4
23
20
YOUNG, Brandon
g
7-11
1-3
2-4
2-3
5
1
17
5
3
1
2
24
00
CLAHAR, Worrel
–
2-6
0-1
0-0
0-2
2
3
4
3
2
0
0
12
02
McGHEE, Edwind
–
1-4
1-3
2-2
0-3
3
0
5
3
1
0
2
15
03
PRICE, Jodan
–
0-3
0-2
0-0
0-1
1
0
0
0
1
0
1
5
10
ROBERTSON, Derrell
–
3-5
0-0
1-1
1-2
3
3
7
0
2
1
0
18
13
DOLINS, Cory
–
0-0
0-0
0-0
0-0
0
0
0
1
0
0
0
4
15
MORGAN, Moses
–
5-10
4-8
1-2
0-0
0
1
15
2
1
0
0
18
25
McDONALD, Durrell
–
4-5
1-1
0-0
0-2
2
3
9
0
1
0
2
17
30
RYCKBOSCH, Peter
–
1-1
0-0
0-0
0-1
1
1
2
0
0
0
0
4
34
PIRRI, Stuart
–
0-0
0-0
0-0
0-1
1
0
0
0
0
0
0
2
35
CLEMONS, Montray
–
1-1
0-0
0-0
0-1
1
2
2
0
2
0
0
7
TM
TEAM
–
–
–
–
3-1
4
–
–
–
–
–
–
–
Totals…………..
–
40-78
9-23
9-17
17-25
42
23
98
23
17
5
16
200
51.3%
39.1%
52.9%
Team summary:
FG
3FG
FT
1st Half:
25-46
6-14
2-6
54.3%
42.9%
33.3%
2nd Half:
15-32
3-9
7-11
46.9%
33.3%
63.6%
| | | | | |
| --- | --- | --- | --- | --- |
| Score by Periods | 1st | 2nd | Total | |
| Austin Peay | 30 | 37 | 67 | Record: (1-2) |
| DePaul | 58 | 40 | 98 | Record: (2-1) |
Officials: James Breeding, Jim Burr, Bo Boroski
Technical fouls: Austin Peay-None. DePaul-None.
Attendance: 7398
Cancun Challenge: Game 2